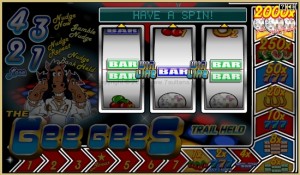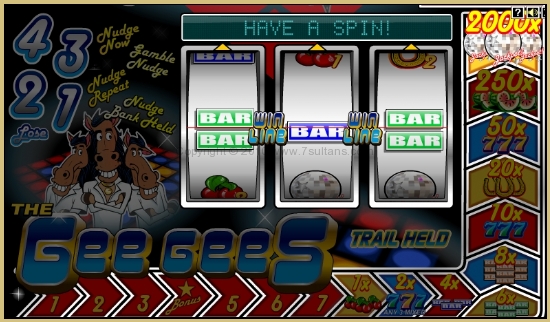 This classic British style fruit machine slot is a Bee Gees tribute slot full of fun, featuring a 'Travolta' disco dancing horse in full white suit with bright lights that dance you round the bonus disco floor below a revolving shiny disco ball and includes sound bites including the neigh of your 'gee gee', crack of the whip and Bee Gees disco music.
With 3 reels, one fixed pay line there is a jackpot 2000x multiplier. Bets range from 10p to £10, wins are calculated as a multiple of the stake from 1x win, to the jackpot. Bets per spin can be changed after each spin.
Nudge Feature, is random and allows a reel or reels to be nudged down to complete a win line or advance on the trail, with sneak peak arrows above the reels helping with nudge choices. There is a random nudge gamble, and repeat nudges feature along with bank nudges feature that carry nudges over to the next spin if banked.
Hold feature, gives the option to hold reels which can that help progress on the trail or complete a line of winning symbols following the next spin.
Reel bonus feature, some reels are also labelled with numbers, appearing on the pay line advance position on the trail, 4 activates the bonus game, 8 or more takes you to a win position, from 1 x win upwards.
The 'trot on' feature is randomly awarded after a spin and spins the reels to a winning combination.
Perhaps the best feature about the Gee Gees is the option to play the Gee Gees dance floor bonus feature game from any kind of win. Once on the dance floor you will have the option to collect the cash pot winnings already won on the main board or spin for potentially bigger wins on the dance floor.
If you spin you are taken round the board according to the spin number, you will land on one of four types of squares;
Nudges, which will be displayed according to the number of nudges gained along with the winnings for those nudges
Features, including, Trot On, Le Freak, and Money, Money, Money, the amount of feature win is not revealed until the feature is played but can be lower than what is already in the cash pot.
Cash squares add to the cash pot according to the amount of cash squares landed on during the bonus game.
Question marked squares on the dance floor if landed on give a random feature including lose, so are really square to be avoided.
You can end the dance floor bonus between spins by selecting collect when the cash pot or feature is highlighted